To say we take birthdays to another level at Nicklaus Marketing might be a bit of an understatement. Especially after the epic surprise my coworkers pulled off for my birthday this month. If they gave you a list of my favorite things, I think they'd say: the ocean, music, running, and the crack-fizzle-pop of a crisp Diet Coke.
The morning of, I truly didn't know what to expect. Last year, the celebrations were intricately ocean-themed. Would this year see more sand and saltwater? Maybe something that involved running? A playlist fit for a music-fanatic?
The past 365 days have seen endless lunch runs that often involve a simple look in my direction saying, "You want a DC with that, right?" Although I didn't think much about it, I can say with certainty that a Diet Coke theme never crossed my mind. And that was the BEST part.
In case you're wondering exactly what I arrived to that Monday morning, here's an inside look. *Insert smirking face emoji*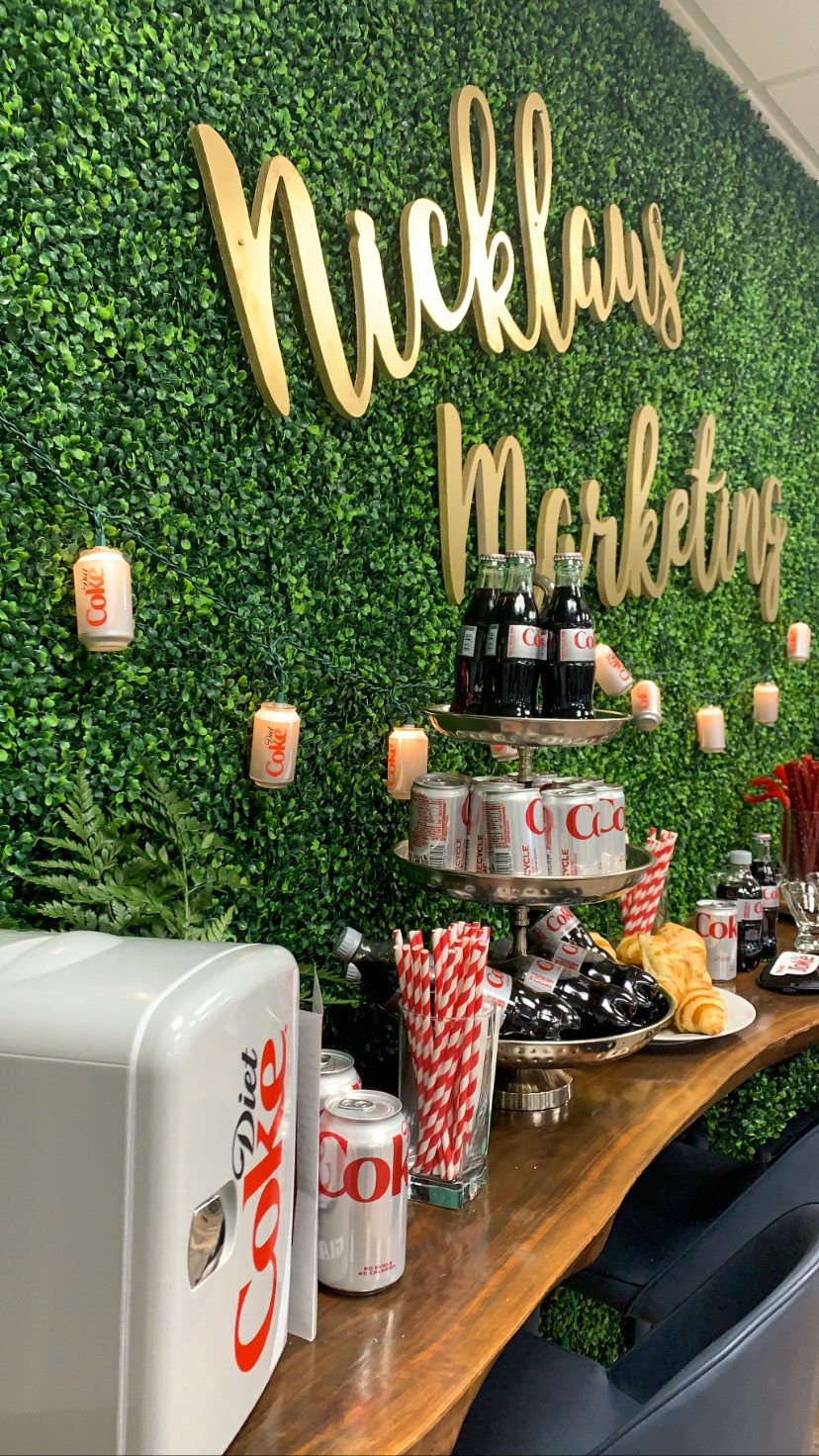 Now, that mini-fridge — can I hear a little commotion for the mini-fridge?! Fully stocked with Diet Coke cans galore. Not to mention, the striped straws, Twizzlers, and mini string lights were the perfect touches to bring the theme full circle.
Last but certainly not least…the bedazzled, handmade Diet Coke cans! You should see the "work in progress" photos they showed me. I couldn't believe the attention to detail and hours that went into making these. Safe to say, I don't think I'll ever be able to bring myself to drink these.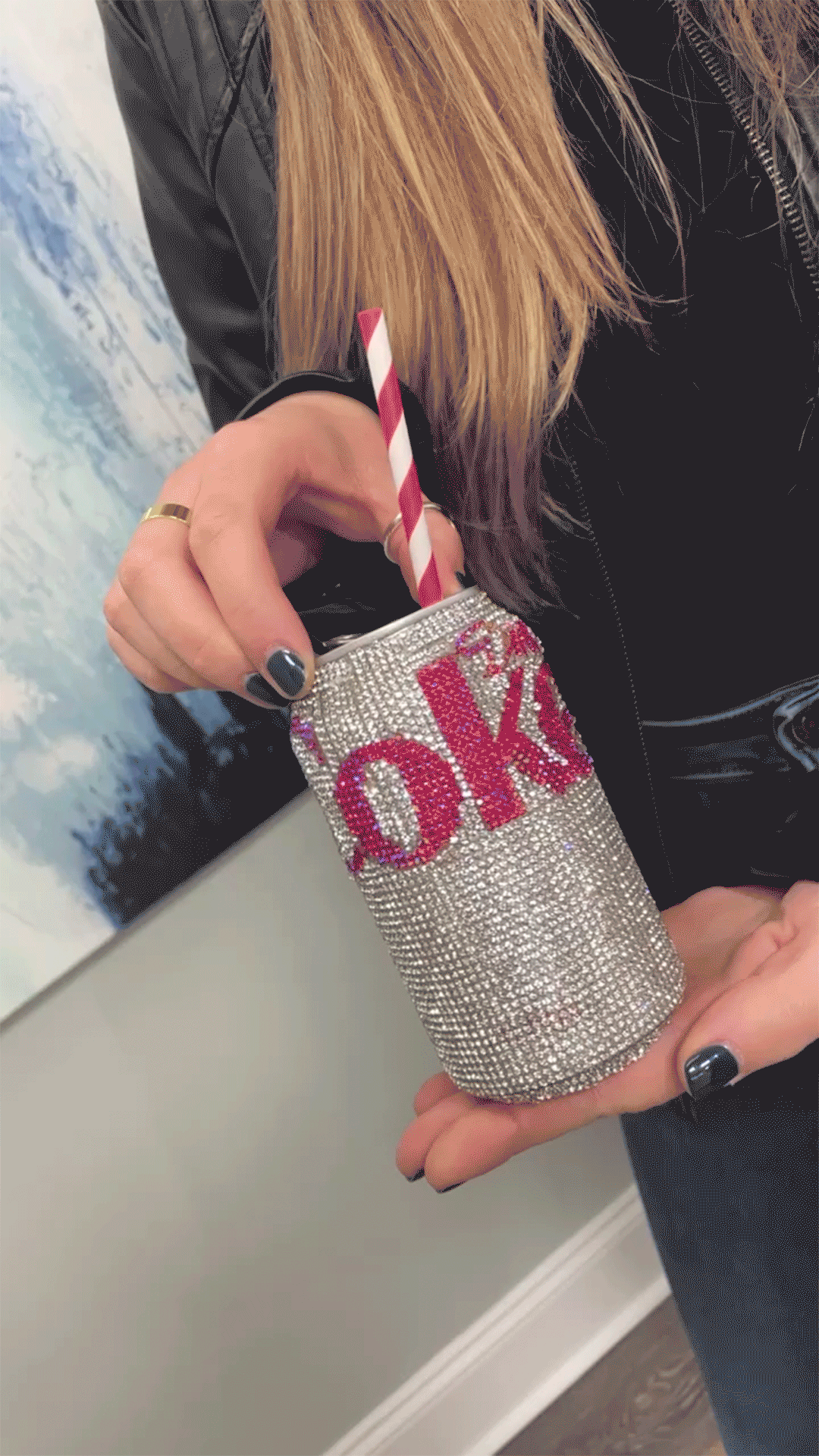 To put my Diet Coke knowledge to the ultimate test, they came up with a lunchtime challenge where I was blindfolded and given four glasses of DC to sample. Each glass was filled with Diet Coke from either a can, fountain, glass bottle, or mini plastic bottle — and my job was to guess which was which. It took 30 minutes of intense back-and-forth deciphering (plus plenty of iconic facial expressions) to ultimately succeed in guessing the can right…and only the can. It was an absolute blast though and with the new office stash of DC, I think I'll be well prepared for any future taste tests.
The following day, showcasing the cans was a must, so I came to the office, photoshoot-ready. Below is one of my favorite shots that had me saying, "@cocacola, wanna collab???"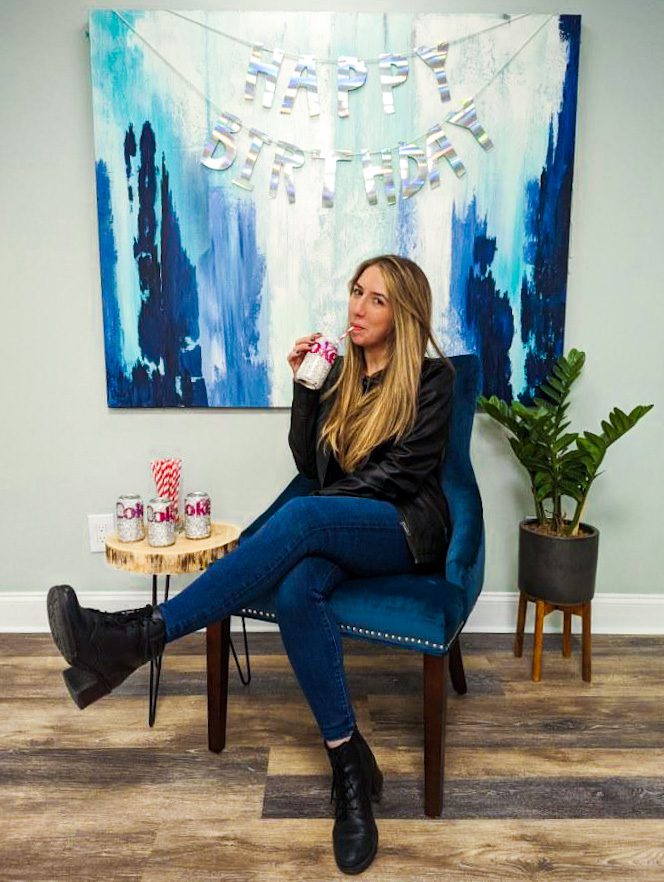 Leave it to a creative marketing agency to brand an entire birthday theme — and to do so with nothing less than flying colors. I am so thankful for the entire team and the effort, thoughtfulness, and creativity they put into making this birthday one for the books!