We are living in unprecedented times, and you may be struggling to find fun family activities to do during quarantine (you're not alone!) But don't worry, we've got you covered! There are hundreds of national "holidays" that many people have never heard of, until now. Read on for our full list of the 31 holidays to celebrate every day in May during quarantine, and have fun!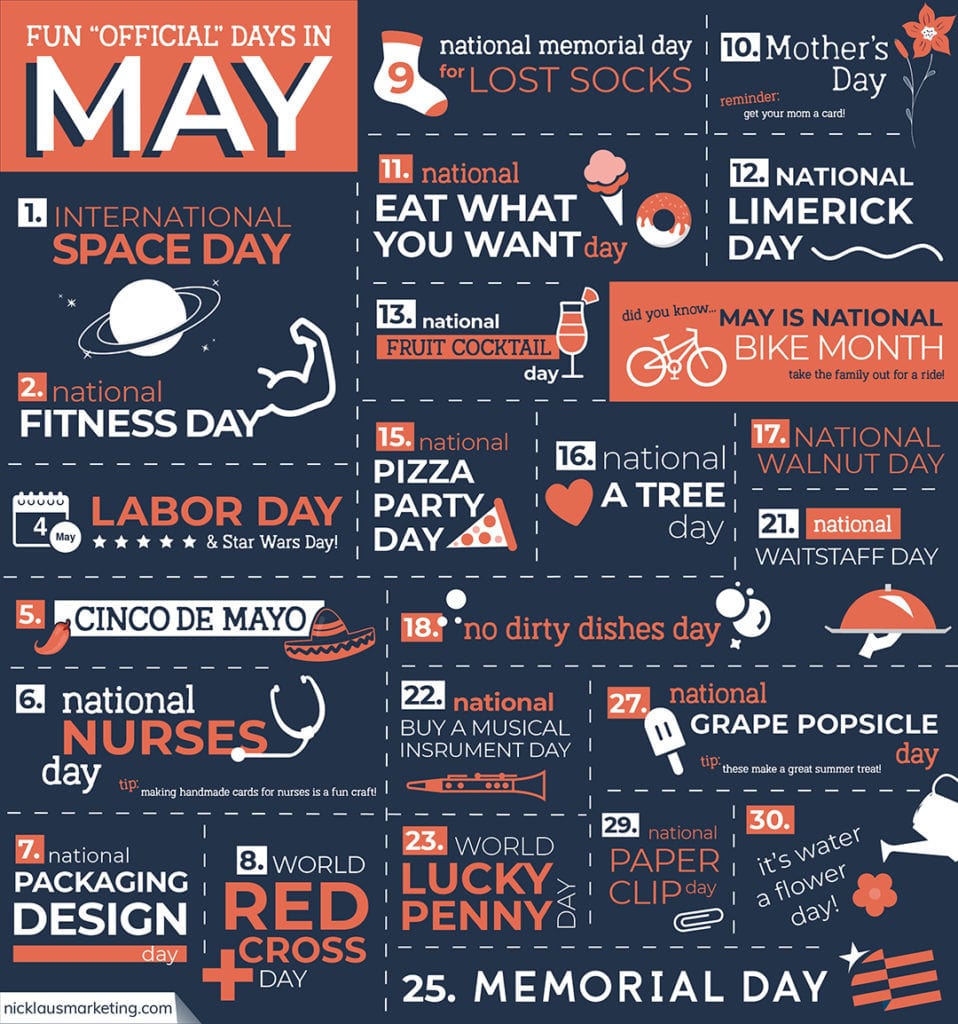 Check out our list of 31 Holidays to Celebrate Every Day in May During Quarantine.
May:
International Space Day – Here is a great resource for out of this world space facts!
National Fitness Day – The whole family can stay fit with this great workout plan!
National Two Different Colored Shoes Day – Wear 2 different shoes, it's fun!
Labor Day – Teach your kids what Labor Day is really all about with this fun video. P.S. It's also Star Wars Day, may the fourth be with you!
Cinco de Mayo – Today is a great day to teach kids about Mexican culture, and maybe even cook up some delicious traditional Mexican recipes!
National Nurses Day – Nurses are on the frontlines of the global pandemic response, and they need our support and appreciation now more than ever! In honor of #nationalnursesday, you can donate to the Coronavirus Response Fund for Nurses. Handmade thank you cards are a fun afternoon craft at any age! Drop them off at your local hospital to put a smile on a nurse's face 🙂
National Packaging Design Day – One of our favorites here at Nicklaus Marketing.
World Red Cross Day – The American Red Cross provides critical relief services to people affected by disasters of all kinds. Help them help others by donating in honor of #worldredcrossday!
National Memorial Day for Lost Socks – Make it a family game! Spend 30 minutes searching the house for lost socks, the person with the most socks after 30 minutes is the winner! Tip: If you don't think there are many lost socks in your house, hide some! Just keep a mental note of where you put them all so they don't get lost forever.
Mother's Day – Celebrate your mom! Tips: Kids and dads – today is a great day to cook dinner for mom. If you aren't able to be with your mom due to quarantine, Zoom video chat is a free and easy way to tell her how much you love her "in person"!
National Eat What You Want Day – If you've been sticking to your diet throughout quarantine (kudos!), today is basically national cheat day. Have a donut, we won't judge.
National Limerick Day – Work together as a family to come up with a limerick of your own! Here is more information and examples to help you get started!
National Fruit Cocktail Day – These fruity cocktail recipes are guaranteed to help you get through the pandemic.
National Dance Like a Chicken Day – Do you know the chicken dance?
National Pizza Party Day – Order dinner from your favorite local pizza place! Wow! We are only halfway through our 31 holidays to celebrate every day in May during quarantine list.
National Love a Tree Day – As it starts to get warmer, it's a great time to get kids outside and show them the joys of nature. Here are a few ideas to get you started!
National Walnut Day – This one cracks us up! Get it?
No Dirty Dishes Day – A favorite of moms everywhere.
National Devil's Food Cake Day – Try out this recipe from the Food Network.
National Pick Strawberries Day – Due to social distancing requirements, farms may not be open for strawberry picking this year. However, many of them are offering curbside pickup for fruits and veggies! Pick up some strawberries from your local farm, and try out one of these amazing recipes!
National Waitstaff Day – Restaurant-industry workers are facing unprecedented economic hardship. Check out what 8-year-old Emma Nicklaus did for unemployed waitstaff in her town. Feeling inspired? You can help too by donating to the One Fair Wage Emergency Fund.
National Buy a Musical Instrument Day – There's no better time to learn a new skill than when you're stuck at home!
World Lucky Penny Day – Tell kids to find and count all of the pennies in your house. As an incentive, tell them they can keep whatever they find! Tip: This will buy you some time to try out one of those fruity cocktail recipes from the 13th.
National Scavenger Hunt Day – Here's a printable stay-at-home scavenger hunt that's guaranteed to entertain your kids!
Memorial Day – Take a moment with your family today to remember and honor the men and women who gave their lives to protect this country.
National Paper Airplane Day – See how many paper airplane designs you can make!
National Grape Popsicle Day – These make a great summer treat! Make them at home with this easy and healthy recipe.
National Hamburger Day – Yum! Plus, May is National BBQ Month.
National Paperclip Day – Try out some of these cool paperclip crafts to pass the time!
Water a Flower Day – May is the best time to plant a garden. Make it a family project!
National Smile Day – These are hard times, and we know that being stuck at home is not fun. But scientists have proven that smiling really can make you feel happier. So remember to smile, we'll get through this together 🙂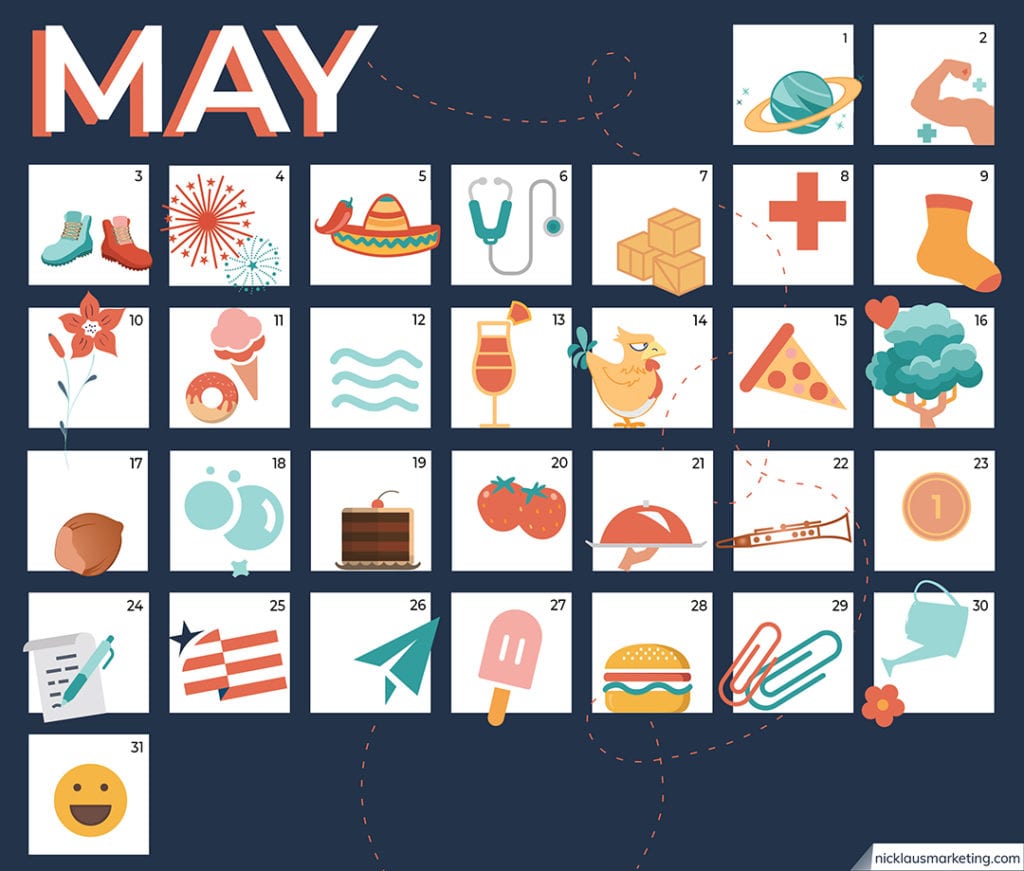 Want to create your own "National" Holiday?
Now that you have browsed the 31 holidays to celebrate every day in May during quarantine maybe you want to create your own. There is no official government agency required to declare the dates, so technically anyone can create a national "day". NationalDayCalendar.com as a dedicated staff that reviews thousands of applications per year, and typically approves 20-25 days per year. When a day is approved, they promote it to help spread the word.
Do you have a great idea for a new holiday, or just want to chat about your business? Comment on our Facebook or Instagram page @nicklausmarketing, or contact us and tell us about it!