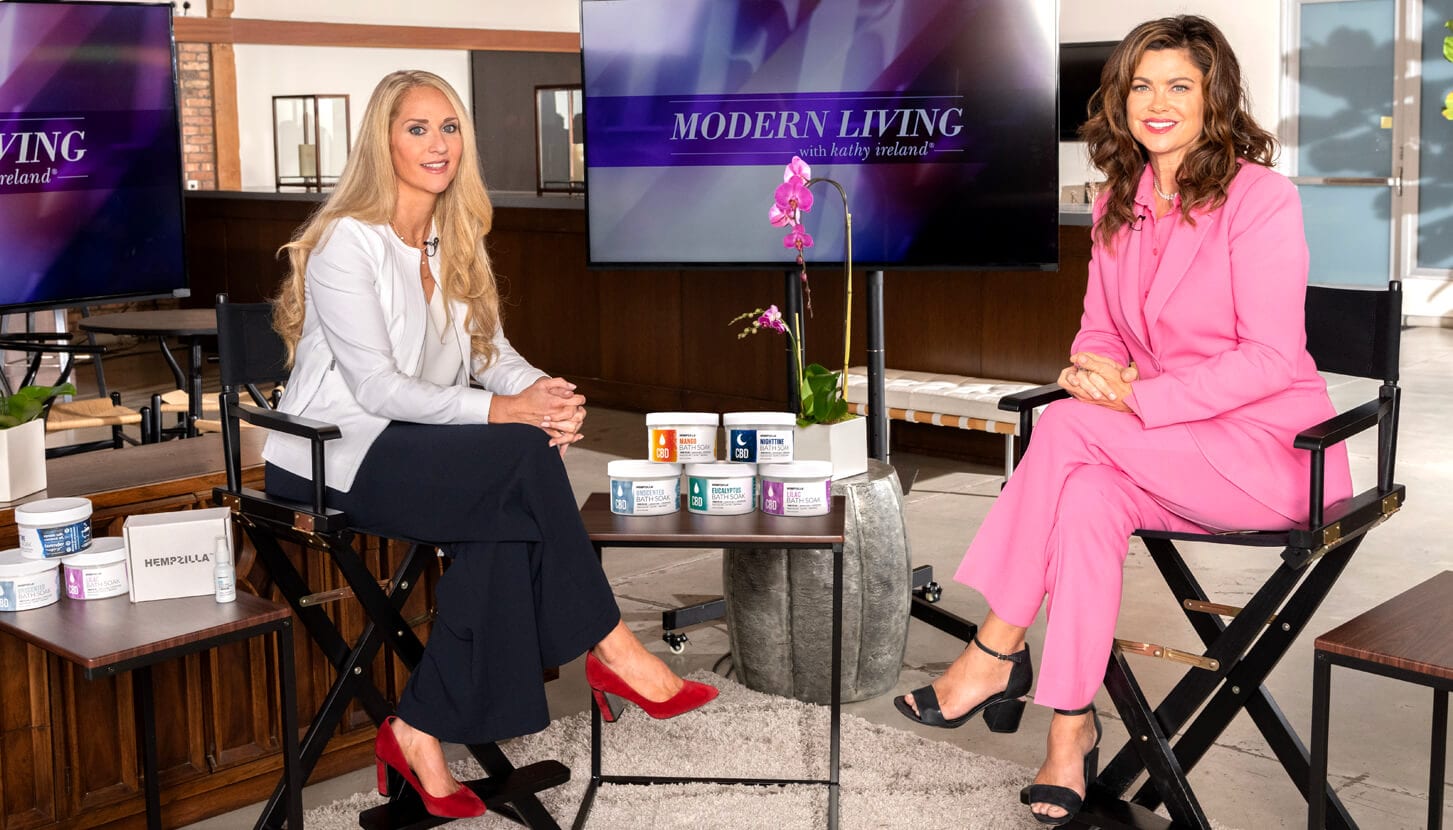 Nicklaus Marketing & PR's owner Amy Nicklaus is a tried and true brand expert. Recently, she appeared on Modern Living with kathy ireland® to talk about two of her CBD partner companies, Hempzilla CBD and RAYNE Beauty Co.
CBD has been surging in the self-care industry thanks to a tide of expert support and compelling customer testimonials. It's not always easy to know which brands are best though, and that's where education on the product and how brands deliver them is essential.
Let's start by taking a look at CBD and what it is. CBD is a cannabinoid that comes from the hemp plant — a small, but largely untapped powerhouse. With over 113 different cannabinoids and 200 plus terpenes, there's a huge opportunity for companies to provide consumers with a holistic, healthful product when manufactured correctly. The cannabinoids found in hemp plants are actually similar to what our bodies naturally produce. People and some pets, such as dogs, produce endocannabinoids that bind to endocannabinoid receptors. Endocannabinoids are essential, being noted to play a part in our immune system responses, memory, mood, and more. By taking CBD, you're increasing the amount of cannabinoids readily available to your endocannabinoid system.
One of the primary contributions CBD has provided to the medicinal world was its unsurpassed ability to cut down inflammation in the body. Inflammation is the cause of many ailments including metabolic issues, anxiety, and stress. And, as most people will physically feel, discomfort is a direct result of inflammation.
The problem is that many companies don't have a team of experts on board and so they cut corners, which seriously diminishes the quality of the product and, in turn, the efficacy. Hempzilla and RAYNE Beauty saw this gap widening as CBD became more mainstream and have been working hard to educate consumers on what to look for and expect in a CBD product. That hasn't always been easy, but it's necessary in order to really harness the power of CBD in a beneficial way.
Born out of necessity and spurred by personal experience, Hempzilla CBD is the brainchild of two entrepreneurs who experienced the healing powers of CBD from hemp firsthand. Unlike many other companies on the market, Hempzilla is dedicated to creating products that enhance health and wellness, while also keeping a close eye on how ingredients are cultivated and processed. Hempzilla is the leader in 100% pure CBD and committed to every part of the process — from planting the seeds and harvesting to delivering the final product. All Hempzilla CBD is ethically matured, hand-picked and trimmed in the USA without the use of pesticides or GMOs. It also contains no traces of THC to ensure purity and potency without any psychoactive effects. This all starts with Hempzilla's labs and the testing they conduct.
Nicklaus Marketing helped build Hempzilla's brand image from the ground-up, having completed a full rebrand in January, 2021. Included in the rebrand was product and display packaging that helped to elevate their brand to better represent who they have become after being an industry-leader for the past 5 years.
Testing is one of the biggest components of what Hempzilla does because it's such an important element for quality-control. They follow Good Manufacturing Practices, also referred to as GMP, in an ISO 6000-rated lab. That means that the product must pass rigorous evaluations and maintain a high and consistent standard in order to pass into the hands of consumers. They test for quality, potency, and stability in an area of the industry that still suffers neglect and, in some cases, dishonesty, even with some of the bigger national brands.
Hempzilla is also one of the few companies who have a full-time PhD biochemist on staff to oversee all testing and ensure that each and every product contains less than .3% Delta-9 THC and is micro-bacteria free.
Hempzilla was the first brand in the CBD industry to boast that it had FDA-registered GMP certifications, used organic practices, and built sophisticated ISO-certified, pharmaceutical grade formulation and extraction labs.
Skincare has also been an explosive category for CBD, especially in the last few years. Rooted in brand transparency and product purity, RAYNE Beauty offers versatile, straightforward solutions that are effective for a multitude of skin types. Years of extensive research enabled RAYNE to create reliable, plant-based formulas that combine the power of science with naturally effective ingredients. The RAYNE Beauty product line is infused with exceptionally pure and potent CBD and an array of oils, extracts, and vitamins that promote healthy, glowing skin. From topicals to body lotions and salves to beauty products, there are so many things CBD is proving it can do. The naming, packaging, and e-commerce website, were some of the ways Nicklaus Marketing established RAYNE's dynamic strategy and created branding that resonates.
On the surface level, our skin is important because it's the first thing that someone sees. It's a lot more than that though — it's also our body's largest organ and it takes on the most damage due to outside elements, such as pollution, sun damage, and even harmful ingredients found in most makeup products.
CBD has an amazing effect on our skin being that it fights bacteria, free radicals, oxidation, and inflammation. That has proven to be a priceless combination, and RAYNE is one of the companies leading the way in making that accessible to anyone.
The versatility and wide range of benefits CBD is capable of is feverishly being studied at nearly every university globally. Even knowing as much as we do, we are all still in the infant stages of understanding the "why's" and "how's." It's been so exciting to be in the front row of discovery and spearhead so many new approaches.
CBD customers range from those interested in boosting their overall wellness to competitive athletes looking for a new way to support post-workout recovery. They're eager to sleep better, live happier, and find relief from pain, anxiety, insomnia, and other everyday ailments. Thanks to brands like Hempzilla CBD and RAYNE Beauty, individuals can finally discover the power of CBD through effective products that are transparent about how they are made and honest in their claims.
Join Kathy and Amy for an informative, exciting look into the science behind CBD and learn what is next for these two groundbreaking, revolutionary CBD brands.
Have questions about CBD, how to establish brand trust in breakthrough markets, or how to get your brand more eyes through television promotion? Nicklaus Marketing is here to help!
CBD has gone from a niche product that only appealed to the medical community to being one of the most talked about topics in the health industry today. Many people are interested in what CBD can do for them; however, they may not have all of the information they need on it. That's where we come in. Our team will provide you with everything you need to know about CBD and how our marketing services can help your company reach an even wider audience through TV commercials.
To learn more about how we handle our media buys, visit: https://www.nicklausmarketing.com/what-we-do/#media-buying-item
To learn more about Hempzilla CBD, check out: https://hempzillacbd.com/
To learn more about RAYNE Beauty, check out: https://raynebeauty.co/