How to use Google Analytics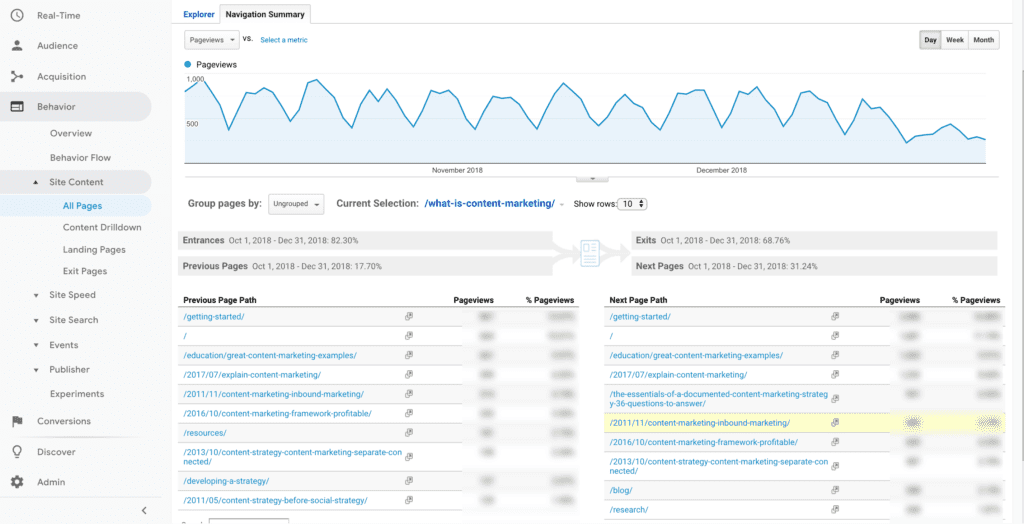 This blog is for people who have Google Analytics set up, but aren't quite sure about the next step. You know that Google Analytics can be a powerful marketing tool and an important part of any SEO or PPC campaign. Not quite sure how to use Google Analytics to help you succeed? We'll go over a few metrics that you should keep an eye on based on what you're looking to accomplish.
So you want to optimize a landing page
You have ads set up pointing to landing page. This landing page has a lot of information about your business and a form for prospects to fill out if they're interested in a consultation. You have data on how many form submissions you've gotten, but how do you use Google Analytics to make your page better?
First, compare the total number of unique pageviews (everyone who has landed on your landing page) to the total number of submissions. A good submission rate varies based on your business and your offer, but in this situation let's say your conversion rate 5% and you want to reach 10%.
If you haven't already, you should set up this conversion as a goal in Google Analytics. That means you'll be able to track this conversion event more easily, allowing you to see what other pages people are visiting before filling out the form on your landing page. It can be a good indicator of key pages you should promote or spend time optimizing in order to get more people to your landing page.
Now that you understand the goal you want to reach, here are a few metrics to look at:
Time on page (are people actually reading the content you've created?)
Bounce rate (how many people get to your landing page, see the content, and say "Nevermind")
Exit rate (how many people were on other pages, but finally get to this page and think "I'm done")
Pages per session (look at this metric in combination with "landing page" as a secondary dimension for information on if people went to other pages after your landing page)
Google won't tell you how to change your landing page, but it will give you the information you need to determine if you need a massive overhaul or a few small tweaks.
Acquisition is everything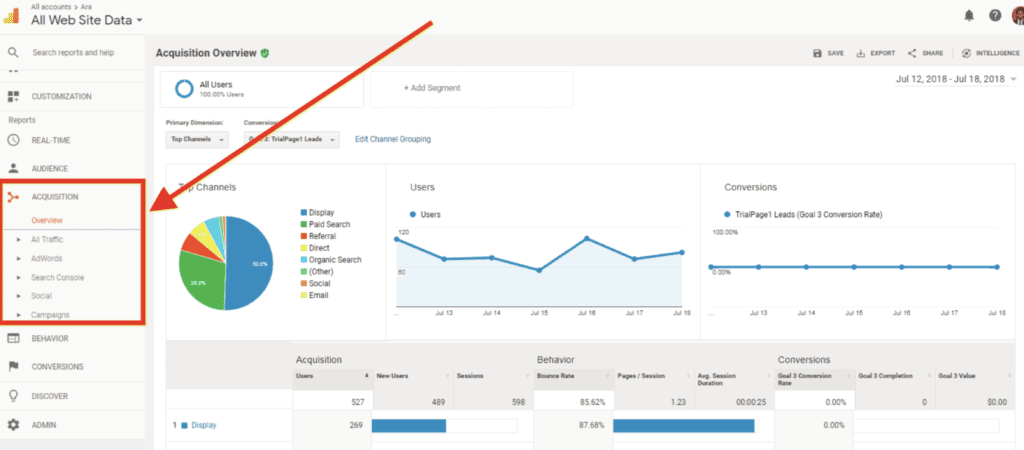 How are people even finding your website? Google Analytics holds some of those answers. Under the "Acquisition" panel you can easily see which cannel is performing best for you:
Direct traffic
Paid advertising
Organic search
Social media
Referral traffic (traffic from websites that link to you)
Some of these channels you are probably actively using, while some may surprise you. Looking into this data can tell you where your website is being shared. You might be surprised to find out your brand has been mentioned and linked on Reddit, which might mean you should spend time engaging with that community. Similarly, you might find that you are actually doing a lot better with organic search as opposed to paid marketing efforts. That doesn't mean you should stop spending money on ads, but it likely indicates that you should be focusing on organic efforts (such as optimizing your website pages and writing new blogs).
Behavior Flow
What does the typical user do when they get to your website? What does their journey look like? That's the purpose of the behavior flow in Google Analytics. It allows you to look at the broad view as well as drill down into specifics. For instance, you can look at how all users visit your site and the various paths they take. Or, you can focus your attention on a specific page, like that landing page we mentioned earlier. You can see where your users find themselves after that initial page.
How does this help you with marketing? Well, you probably have an idea of what your user's website journey. should look like. Behavior flow tells you if it matches or not. If it does match, what actions can you take to make this experience even better? Now that you know for sure they're following these steps, review and make sure this page order is giving them all the information they need.
But what if it doesn't match your expectations? This is a moment where you need to either change elements on your site to push users to the pages you want them to visit, in that order, or allow their path to impact your website changes. If they're visiting a page you never thought was that important, it might tell you that it's actually a valuable page. Make sure the information there helps your prospects, and place links on that page to other places you want them to go or provide a form they can fill out.
Ready to take your website experience to the next level? Find out how we can help.